Welcome To International Sim Racing Association
Ward 8th Different Winner in Victory Lane!
2014-07-21 19:59:24 - Posted By: John Hensley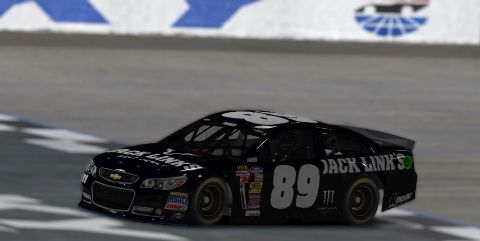 Entering Sunday the POWER Series has seen seven different winners in its seven races so far this season. Jeff Ward made sure that not only would there be an eighth but that it would be a new series winner altogether. Kyle Guerry also made sure that the season would see its eighth different pole winner this season when he put his Ford Fusion on top of the qualifying boards with a new track record. Guerry's first series pole was short lived, however, as series veteran Saif Faries jumped  into lead on the start of the race and set a blistering pace in the early stages. Faries would eventually give up his lead when he spun trying to make a green flag pit stop on lap 32. After stops cycled out it was Tim Johnston showing the way with Robert Lynn and Mike Kelley giving chase. The only caution of the race flew on lap 80 when Dave Correia spun out on the frontstretch as the leaders were coming around to put the New England driver a lap down. The restart on lap 85 provided the race with its biggest mix up in the standings. Faries, who had spun his tires on the start, made contact with outside wall and resulted in a mad scramble for safety behind him. In a controversial call from race control, drivers Ryan Piland, Marcus Napier, Guerry and Lynn were black flagged for passing before the start/finish line. As drivers dodged trouble behind them Johnston, Kelley, Ward and Corey Davis led with a huge gap and would rely on pit stops to settle the race finish between them. Johnston would use a 2 tire stop on lap 101 for his strategy while Ward would do the same on lap 114 to try to run down the 54 of Johnston on fresher tires. With six laps to go Ward would do just that by passing Johnston and driving to his first career POWER Series win. Davis would charge to second while Johnston slipped back to third. Kelley and Terry McCuin rounded out the top 5.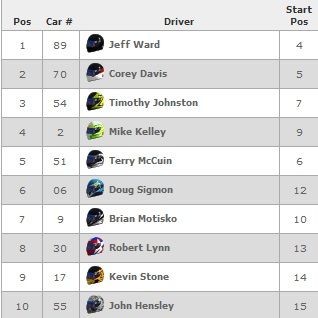 Next week the series goes to Indianapolis for race 9 of the season.
ISRA Changes
2014-06-07 17:13:03 - Posted By: PJ Losey
Many thanks to Colin and all his help.

There are lot of little things going on in the background at the moment. I will be taking back over the reins of the ISRA for now. I have had a few that already want to step up to the plate and I appreciate the interest. 

The ISRA Needs a revamp and a new direction. It has been good but its def not the original ISRA that was founded by myself and Alex Ulleri. 

At this moment I will be talking to the Series admins and getting there opinion on what they want to do (have already some opinions) and then making decisions on what happens next.

Most likely the ISRA is going to let the current series run there season and not start anymore until things are restructured and redesigned. 

A list of what I want to see before we go further (simple list)

Website Cleaned up and Organized
A page with who is in charge of what.(League Admins, Series, Admins, Media, articles, etc)
Better managment of the finances so everyone knows what is going on
Only 2 Series one road and one oval so that all the people that are dedicated to the league are not pulled in multiple directions.

Thats just breaking the surface. if you feel you have any interest in helping with anything on the league please let me know via emailpjlosey@israleague.com
Grand Prix Championship Launches!
2012-05-31 18:12:28 - Posted By: Colin MacLean
Welcome to the ISRA Grand Prix Championship! Over the past several months a lot work has been put into developing a highly competitive Grand Prix experience. Utilizing the most technically advanced vehicle in the iRacing line-up, the FW31, the International Sim Racing Association wants to invite you to join the GPC as we start the inaugural season.Starting June 6th the GPC begins pre-season testing. June 20th marks the official start to the season with the Australian Grand Prix to be held at the picturesque Philip Island Circuit.
As with real world Formula One racing, team work is paramount in delivering the strongest results possible from race to race. The GPC wants to emulate that thinking. Create a team with a friend or we'll pair you up on a team. Either way working with your teammate is the only way you will be able to take home the Team Championship trophy and all the glory that goes with it!
You will be able to sign up for the series by going to 
www.israleague.com/series
 If the signup is not yet available, please keep checking back, it will be available in the coming hours today (05/31/12).
There is also a rule book that accompanies this series, which will be posted in the Rulebook section under the general ISRA forum. We
strongly
 recommend that all drivers read through this, there are a few new rules that drivers may not be used to seeing (e.g. Car liveries, and passing rules).
We also ask that once you sign up for the series you send a quick email to: 
gpc.commission@gmail.com
 (or a PM to Ryan Cornes or myself) that has your team name and the two drivers on the team. Please make sure to read the rule book on Team Liveries. If you do not have a team, you can sign up to be randomly assigned with another driver and create your team that way. Also, drivers may run without a team and only compete in the driver's championship, but we strongly suggest starting a team, as they may play an even bigger part in this series in the future. Plus, where's the fun in only competing in one championship?!? 
In summary, we are very excited to bring back the F1 Grand Prix racing experience to ISRA. The Williams F1 car is great to drive, and we think that there will be some great racing in this series. 
If you have any questions please feel free to contact Ryan or myself ANYTIME through the PM system here in the forums, or preferably email: gpc.commission@gmail.com
Thank you for your time, and we hope you enjoy the Grand Prix Championship!
Site Changes
2010-12-17 08:12:37 - Posted By: PJ Losey
Over the next few hours you will see many site changes. Some things may not work temporaily and graphics and more will change.  This should only take a few hours and then we will have the new build up.

Bare with us for a bit.

Thanks
The ISRA Staff
Barn Burner at Road Atlanta
2010-12-16 01:58:53 - Posted By: PJ Losey
Road Atlanta in Braselton, Georgia has been the scene of many epic races through the years.  How could anyone forget Allan McNish's charge to victory in the 2008 Petit Le Mans having started the race one lap down after wrecking on the warm-up lap?  Or any number of the fantastic SCCA Runoffs races that were held there for 24 years?  Round Three of the O'Neil PC Systems Grand Touring Championship (GTC), while taking place on a virtual representation of the real track, certainly rivaled any past race for real drama and excitement!
Qualifying took place over three hot laps on an empty track.  By this, the third online race of the season, most sim racers have worked out a solid qualifying strategy of bagging one safe lap and then pushing hard on the second and third laps to try and pick up a few tenths and a few vital positions on the grid.  In the GT class, the V8 Supercar of Kevin Savoie clinched pole just ahead of  the Ford Falcon of arch rival David Sirois.  Fellow Canadian Andre Michaud rounded-out the top three.  In the GS class, the Mustang of Mike Young laid down a dominating lap well ahead of those of Randy Wolfgram and Jaymz Mynes.  In ST, no strangers to the real Road Atlanta, Eric Foss and Colin MacLean claimed the first two spots on the Mazda MX-5 class grid hotly pursued by Daniel Graulty.
34 drivers sweeping through Turn 12 nose-to-tail is always a glorious sight: This was no exception.  The green flag waved early and they were off!  The story of the night was in the GT class.  Savoie and Sirois waged an absolute war on the track that lasted from the first lap to the checker.  The V8 Supercar is a real handful at Road Atlanta and these two drivers were the class of the field as they ran a hard, clean race with no mistakes.  At the green flag Savoie took point with Sirois hot on his heels.  Sirois tucked into the draft and ran a close one-two and pulled away from the rest of the pack.  Sirois had a great opportunity to study Savoie's race line and his study would pay off on Lap Eight when Savoie ran wide exiting 10A and got a slow run out of 10B.  Sirois showed the nose into Turn One and a slightly distracted Savoie slid wide, almost losing it on the grass.  Gathering it up he slotted in behind Sirois and worked hard to return the favor.  Savoie was really on his game tonight and was back on his tail within half a lap.
Road Atlanta can be a tough multi-class track as there are sections of the track, primarily the Esses, where a V8 can lose huge chunks of time snared behind battling Mustangs and MX-5s.  Running such close times it was always going to be traffic that created passing opportunities.  Unable to make the pass on track Savoie elected to dive into the pits lap 21.  The strategy was to pit early and turn hot laps to leapfrog Sirois in the pits.  Savoie may have left it too late though as he lost time on the in-lap to slower traffic.  Reacting to his pit-stop Sirois brought his racing car in Lap 22 for his stop.  As Sirois rejoined it was nose to tail again with Sirois still in front!
With three laps to go it was time for Savoie to make his play.  He was on Sirois' bumper and would not let him get away.  As they weaved their way through traffic Savoie knew he had to jump on any opportunity that presented itself.  On the penultimate lap, Sirois caught Jim Mcleish's Mustang right at the apex of Turn Five.  Savoie, eager for the opportunity, powered through the turn giving him enough momentum to swoop round the outside into Turn Six taking the lead!  Through Turn Seven, Savoie got a little loose and allowed Sirois to make a run down the back straight.  Braking into 10A, Sirois on the outside, Savoie defending to the inside, inches separating them, Sirois laid down a masterful move and took the position back round the outside.  Great driving from both!
Onto the final lap where Savoie likely thought his moment had passed.  Yet as they exited Turn Five, the two combatants faced an absolute swarm of MX-5 and Mustangs fighting for position in Turn Six.  As Sirois entered the turn he was balked by a Mustang and Savoie swept under him and into the lead.  So there they went again, side-by-side down the back straight on the last lap with it all to play for!  Ahead the MX-5s of Daniel Graulty and Alex Ulleri argued over a section of road sending both careening into the wall right in front of the leaders!  Sirois, avoiding the MX-5 carnage, defended to the inside, kept his nose ahead and took the checkered flag inches ahead of Savoie.
What a memorable battle and a fantastic fighting performance from both drivers.
Sirois was reflective after the race.  "This time, I won but it could have gone one way or the other," he said.  "I think I should have pushed a bit more and kept a bigger gap with Kevin.  But it is easy to say afterward and anyway, it would have been another story."
Waiting in the wings for any mistake from the two leaders Chris Damron rounded out the podium in third place less than ten seconds behind.
In the ST class Foss took a flag to flag victory closely followed by MacLean and Graulty.  The GS class victory went to Young ahead of Chuck Chambliss and Jaymz Mynes.
The next outing for the GTC is to historic Watkins Glen for a one hour and thirty minute Enduro fature race.  The virtual racers will need to be on their toes to keep out of trouble for so long!  Multiple pit stops, hundreds of passes and a high level of competition will be on display.  Log on to inRacingNews for the full story next week!
Visit http://www.israleague.com to get involved and to get in line for a highly sought after race seat.  There are always one or two slots open at each race so sign up to the waiting list and 15 minutes before the race starts you will receive a "fill the grid" notification.  You can then join in what is rapidly becoming the premier iRacing hosted multi-class racing series.  See you on track!